Dental Implants – Las Vegas, NV
The Modern Gold Standard for Tooth Replacement
When tooth replacement was limited to just dentures and bridges, there was very little that dentists could do to prevent the bone loss that occurs when the jaw is no longer stimulated by natural teeth. Dental implants have changed that; not only do they anchor teeth permanently in place, but they also actively contribute to a stronger, healthier jawbone. Call us today to set up a consultation and get started on the process for replacing missing teeth with dental implants in Las Vegas, NV.
Why Choose Rose Cosmetic & Family Dentistry for Dental Implants?
Implant Surgery
Performed In-House
Experienced and Highly
Skilled Dentist
Titanium and Zirconia
Implants Available
What are Dental Implants?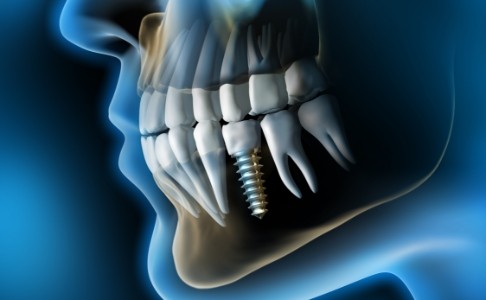 The dental implants that are most commonly used today are called endosteal implants. They're made to be put in the jawbone so that they can act as roots for replacement teeth. Implants are intended to join with the jawbone through a process called osseointegration. As such, they need to be made from a biocompatible material. Titanium is the most common, but zirconia is also a viable option; our dental office offers both kinds of implants to replace any number of teeth.
The 4-Step Dental Implant Process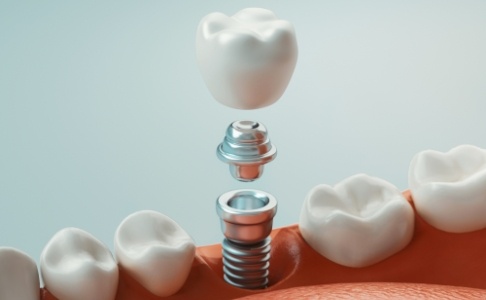 Step 1: Initial Consultation: We will discuss your needs and oral health to decide whether you're a good implant candidate. Bone grafts, periodontal therapy, and other procedures may be deemed necessary to prepare the jaw for implant surgery.
Step 2: Dental Implant Surgery: On the day of the surgery, your mouth is numbed before the implant posts are inserted into carefully chosen spots in the jawbone.
Step 3: Osseointegration/Abutment: After dental implants have fused with the jawbone (which usually takes a few months), an abutment can be attached to them.
Step 4: Delivery of the Final Restoration: The final restoration will be fully personalized based on impressions of your mouth. We will attach it to the abutment(s) during the last step of the implant process.
Benefits of Dental Implants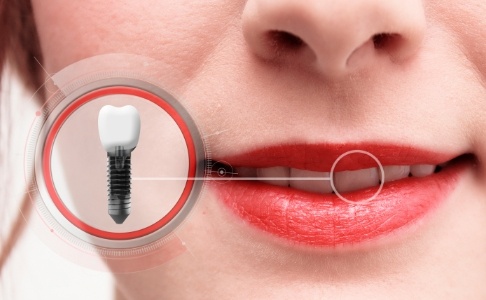 Patients love dental implants because they…
…behave like natural teeth, in that they always stay firmly in place and provide full chewing power.
…can last a lifetime, as opposed to bridges and dentures that have an average lifespan of around 10 years or so.
…can halt bone loss by acting as a tooth root and providing stimulation for the jaw. This also helps prevent facial sagging.
…are very easy to take care of and allow you to brush and floss as you normally would.
Who Dental Implants Can Help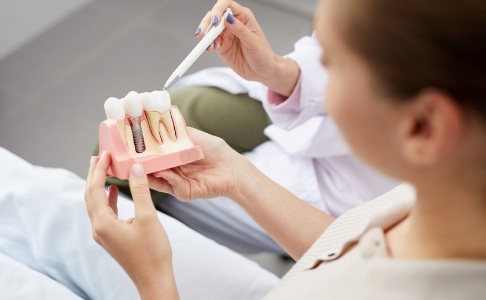 As long as your mouth and jaw are healthy and fully capable of supporting implant posts, we can generally replace any number of teeth with dental implants. We'll perform a full check of your oral health during your initial consultation to determine whether additional treatments need to be performed to make you eligible. Then we can start planning the dental implant process, which will look different depending on how many teeth you've lost.
Missing Single Tooth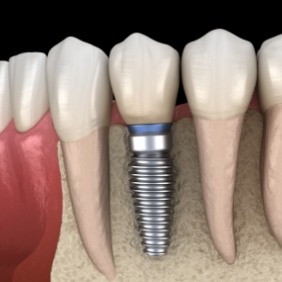 When just one tooth is missing, a dental implant will be placed in the empty space. After the initial healing phase, a crown will be placed on top of the abutment. Just like the restorations used to repair your teeth, implant crowns can be designed to match your natural smile so seamlessly that most people won't be able to tell which tooth was replaced.
Missing Multiple Teeth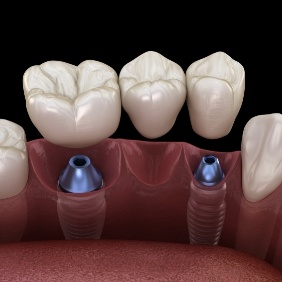 It typically only takes two implant posts to support a bridge that replaces three or more teeth in a row. This approach minimizes the need to modify existing enamel, as the bridge is being supported by implants instead of your teeth.
Missing All of Your Teeth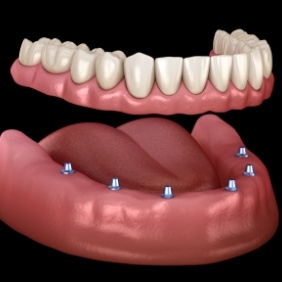 Even in the most extensive cases of tooth loss, dental implants remain a viable option. Implant dentures are designed to be supported by a small number of implants – usually about 4 to 6. They can be made removable or fixed in place depending on your preferences and personal dental needs.
Understanding the Cost
of Dental Implants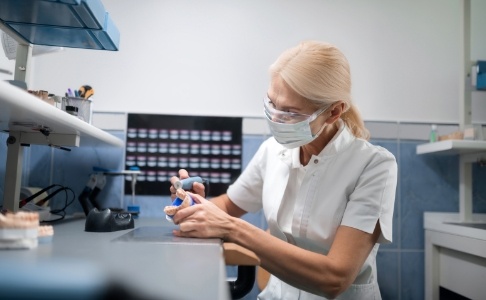 The different parts of the dental implant (i.e., the post, the restoration, and the abutment) all come with their own costs. There are also variables such as the number of implants needed and the necessity of preliminary procedures that will ultimately determine how much you pay for your dental implants. We will give you an estimate during your initial consultation and discuss why implants may be a worthwhile investment in your case.