Veneers – Las Vegas, NV
Transform Your Smile in Just Two Visits!
Don't like what you see every time you smile in the mirror? Rest assured – you're not alone. Millions of Americans are unhappy with their teeth, whether it's because they're stained, discolored, damaged, or misaligned. Luckily, we offer a solution to address all those issues at once. At Rose Cosmetic & Family Dentistry, our team can help you drastically improve your appearance with veneers in Las Vegas. If you'd like to learn more about this cosmetic service, continue reading or schedule a consultation with Dr. Rose today!
Why Choose Rose Cosmetic & Family Dentistry for Veneers?
State-of-the-Art Dental Technology
Experienced & Friendly Dental Team
CareCredit Financing Available
What are Dental Veneers?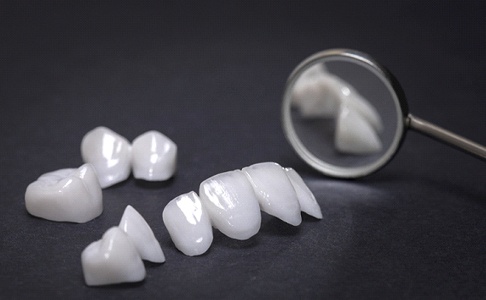 Veneers are thin sheaths of dental-grade porcelain that are attached to the front-facing surfaces of your teeth. The custom-made shells are designed to mask several flaws at once, like discoloration, chips, and minor crookedness. Since porcelain is stain-resistant, you can expect your new and improved smile to stay bright for years to come. Of course, the exact lifespan will vary depending on your oral hygiene, health, and lifestyle.
The Process of Getting Veneers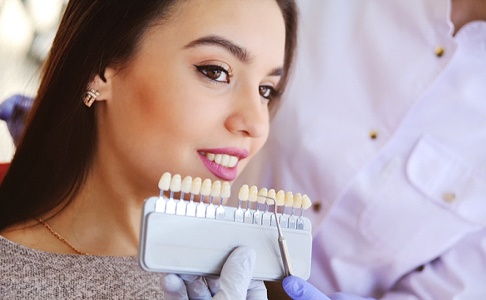 First things first, you'll have a consultation with Dr. Rose to determine whether or not veneers are right for you. During your visit, he'll assess your needs and ask about your smile goals. Once you've both decided this cosmetic service is the best option, you'll get scheduled for the first phase of your treatment.
Dr. Rose will remove a thin layer of enamel to ensure the veneers fit properly against the teeth. Then, he'll take impressions of your mouth and send them to a trusted dental laboratory. While you wait for your permanent veneers to be made, you'll wear temporary ones to protect your prepared teeth.
In about two weeks, your final veneers should be ready! You'll return to the office to have them permanently placed. After any final adjustments are made, you'll be ready to show off your brand-new smile that same day!
The Benefits of Veneers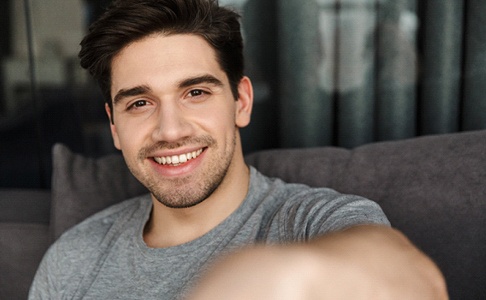 Today, veneers are one of the most popular cosmetic treatments available. It's an excellent solution that offers multiple incredible benefits, such as:
Ability to improve the color, size, shape, and proportion of your teeth
Minimally invasive procedure
Stain-resistant materials
Long-lasting results (up to 15 years with proper care and maintenance)
Natural-looking smile
Understanding the Cost of Veneers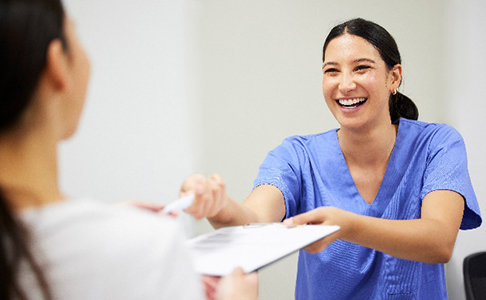 The cost of veneers can be a bit difficult to pinpoint on your own. It's not because our Las Vegas dental team doesn't want to give you a number. Quite the opposite – we want to learn all about your unique smile goals and dental needs so we can give you the correct number. That's why we recommend scheduling a consultation. Of course, if you'd prefer to continue your online research for now, that's okay too! In that case, read on.
Cost vs. Cosmetic Dentistry: What's Right For Me?
Although veneers are one of the most popular options, they aren't the only ones you have when it comes to enhancing your smile. That's why we encourage patients to consider all of their choices, from braces and teeth whitening to direct bonding. With this in mind, here's some important information to consider when looking into these cosmetic dental treatments and how they compare to veneers:
Braces – Although braces and veneers couldn't be more different, they do have a few things in common, including that they can correct minor misalignment and that the results can last for a lifetime. It's important to note, however, that braces won't improve the shape or color of your teeth. If you want to fix chips, cracks, or stubborn stains, then veneers may be the best choice for you.
Teeth Whitening – There's no doubt about it: professional teeth whitening is far superior to anything you'll find at your local grocery store or pharmacy. Of course, there still are some limitations even with clinically tested, powerful whitening treatments, like they can't fix permanent discoloration. Fortunately, veneers can! So, if you are unhappy with your smile due to serious stains (or if you want to improve more than just the shade of your teeth), you should consider veneers.
Direct Bonding – Similar to veneers, direct bonding can improve multiple aspects of your smile at once. Before letting this persuade you, make sure to schedule a consultation with us to look at the pros and cons of these cosmetic dental treatments. For example, while direct bonding is more cost-effective upfront, the results don't last anywhere near as long as veneers do.
Veneers – Reading through the previous points will give you some insight into why veneers are so popular, even though there is a higher price tag attached. In addition to being long-lasting and completely customizable, they can simultaneously improve the shade, shape, and size of your teeth!
How to Make Veneers Affordable
Since veneers aren't usually "medically necessary," it's safe to assume that your dental insurance provider won't cover a portion of the cost. The good news is that our team at Rose Cosmetic & Family Dentistry offers another affordable solution: flexible financing. With CareCredit and Alphaeon, you can pay for your treatment in monthly installments instead of in one lump sum. Want to learn more details about these financial solutions? Give us a call so we can help!