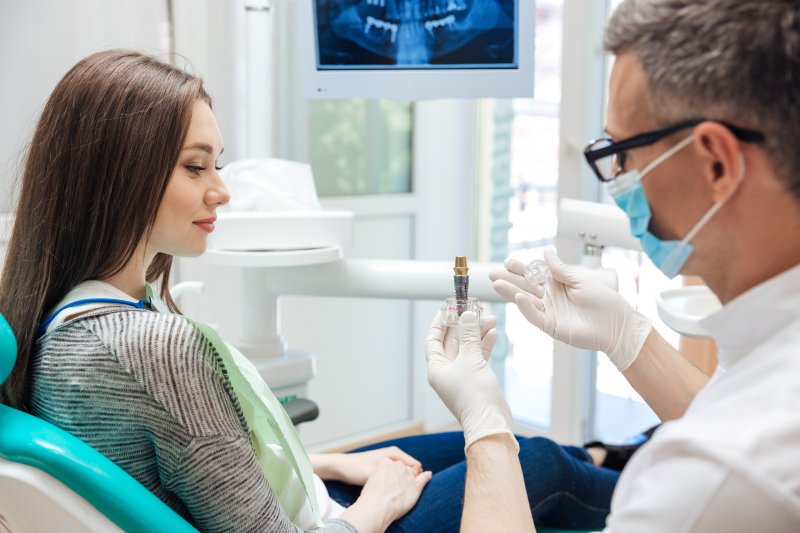 Many people know that dental implants are a standard form of tooth replacement. An artificial tooth inserted into the gap created by natural tooth-loss, an implant can help give you a full, natural-looking smile. For most patients, that's all there is to know about the process.
It can be surprising, therefore, that dental implants come in three varieties, each having unique strengths and weaknesses. To learn more, listed below is a summary of the three types of dental implants — single-tooth dental implants, implant-supported bridges, and implant-retained dentures.
Single-Tooth Dental Implants
Arguably the most common type, single-tooth dental implants replace individual missing teeth from root to crown.
Each one is composed of a titanium post. After a dentist numbs the relevant region, it attaches directly to the jawbone at the location of the former tooth. In a process known as osseointegration, the post remains in place via bone that grows and surrounds it over time.
Single-tooth implants' metal portions, set beneath the gumline, help prevent the loss of surrounding tissue. To replace the visible part of your tooth, a dentist will use a dental crown.
Implant-Supported Bridges
Like traditional bridges, implant-supported bridges can replace a consecutive row of missing teeth. However, there is one distinct difference: dental implants fill the gap in your smile. This approach proves more cost-effective than replacing each tooth, and the dental implants preserve your jawbone too. Plus, they don't require any alteration to your surrounding teeth!
Implant-Retained Dentures
An implant-retained denture is an artificial arch of teeth. Functioning normally, it rests on your gum line and gives you the appearance of a complete set of teeth. Unlike traditional dentures, which are removable and can slip, slide, click, or fall out, these dentures remain secure with dental implants.
A dentist will strategically place four dental implants along your arch for the placement process. Meanwhile, your current denture may be modified so you can wear it without disrupting the healing process.
Afterward, you will receive a new, custom denture that fastens to the dental implants.
As you can see, dental implants aren't all the same, nor do they all have the same benefits. So, next time you consider them to replace your missing teeth, talk to your dentist about which kind would work best for you!
About the Practice
Rose Cosmetic & Family Dentistry is based in Las Vegas, NV. It is led by Dr. Michael Rose, who earned his dental degree from the University of the Pacific's Arthur A. Dugoni School of Dentistry. Having served the Las Vegas community for decades, the practice prides itself on helping local families attain great smiles through comfortable treatment. "Dr. Mike" and his team also take a personalized approach to ensure patients receive care tailored to their wants and needs. For more information or to book an appointment, the practice can be reached at their website or by phone at (702)-459-8998.